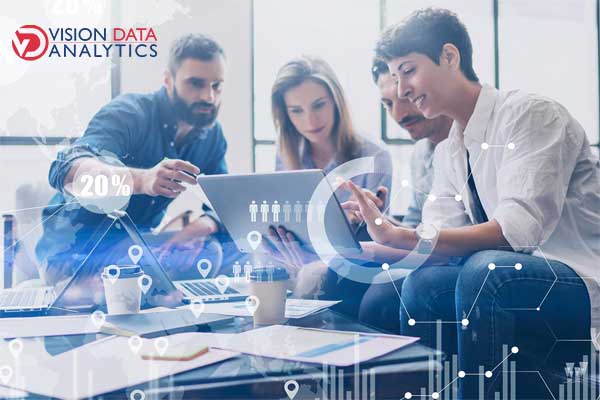 Organizations and corporations are looking for new ways to acquire a competitive advantage, cut operational costs, raise profit margins, and achieve digital transformation. Cloud consulting services and information technology can significantly improve all parts of a firm. Therefore, with the introduction of cloud computing technology, implementing digital transformation is no longer as difficult as it appears.
Cloud computing includes the solutions to businesses' data and technology problems, but it has also created its own set of issues. Businesses may become nimbler and more sensitive to the ever-changing market environment by adopting the cloud, which improves their decision-making skills and gives them a competitive advantage. At this point, Vision Data Analytics' Cloud Consulting Services in Hyderabad, Bangalore, Mangalore, US, and Europe can be right for your business.
It can assist you in selecting the best solution and products for your unique needs, ensuring that they function together flawlessly and deliver the best return on investment. Also, guide you through selecting the correct solutions that integrate seamlessly and provide a return on your IT investment. Cloud computing is rapidly expanding, and the cloud security it provides is good for businesses. They can securely store data in the cloud.
What Are the Main Focus of Cloud Consulting?
Management consultations take the form of- Q&A meetings, email correspondence, and so on.
TCO, ROI, and the predicted influence on development cost and time are all part of the business case.
Process descriptions and policies that govern the provisioning of IT services after migration.
Plan for migration with business priorities, milestone events, development capabilities as well as a risk management strategy.
As well as design architectures for apps, data warehouses, cloud-native, and hybrid infrastructures.
Architects, developers, testers, DevOps engineers, IT support specialists, and database- and security administrators receive guidance on transformation and knowledge transfer.
If coding was done, there were infrastructure configuration reviews and code reviews.
What Is the Role of a Cloud Consultant?
Cloud consultants are well-versed in the technical elements of cloud-based applications and play an important communicative role. They are in charge of communicating the advantages of services to particular organizations in a way that non-technical company representatives can comprehend.
To work as an IT consultant of any type, you'll almost certainly require a relevant college degree. Hence, employers may also expect you to have at least a few years of experience working in a computing environment. They, in general, assist their clients in choosing a plan. Also, they do research for enterprises to decide which apps or services are best suited for deployment. And then they begin migrating on-premises resources to a platform.
Working with computing businesses has numerous advantages for your company. Because it allows you to set up a virtual office that allows you to stay connected to your business at any time and from anywhere.
Therefore, access to your data has become increasingly easier because of the proliferation of online-enabled smart devices. General cloud consulting services:
Services for strategy
Adoption and migration
Infrastructure management
Services for maintenance, monitoring, and security
Development of cloud-based applications
Cloud Optimization
Services for disaster recovery management
What Are the Locations Where Cloud Consultants Work?
They might work in a variety of settings. And might work onsite for a large corporation as part of their internal IT department, informing their cloud-related decisions, depending on your employer. In other circumstances, consultants work for independent technology firms and hire first for consultations, then for full-scale application development.
May employ in one or more places:
Small, medium, or large businesses
Firms that conduct technological research
Self-contained Computing companies
Service providers of information technology
Your location as a consultant will most likely be determined by the nature of your employer. You may force- to travel between a client's office and your own if you are hired as a consultant to work with individual clients.
A Consultant's Individual Tasks Include:
Communicating with businesses to assess their service requirements and address any queries they may have about the cloud.
Investigating cloud-based apps that may be of interest to businesses.
Working with engineers, administrators, and IT teams to develop cloud-based applications that meet the demands of clients.
Developing cloud-based apps that clients may require, usually after assisting clients in the development of those applications.
After establishing applications, integrate them into a client's network.
Client networks configure to handle any new services.
Educating clients' employees on how to use new cloud-based applications properly.
Educating organizations on any modifications to their existing cloud-based solutions.
Hence, choosing the correct cloud strategy consulting or solutions provider can be difficult and necessitates some due diligence in competence, expertise, and certification. Our Off Role Staffing Services in Hyderabad, Bangalore, Mangalore, US, and Europe have the requisite experience or knowledge of the industry. In the end, we will serve all your consulting needs, at least in the most efficient manner.