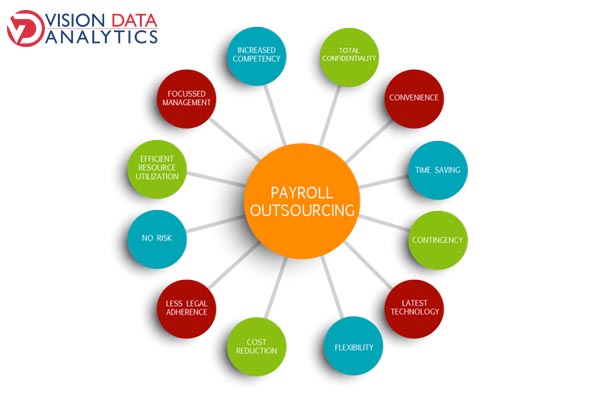 Payroll outsourcing services in a business refer to hiring an outside party to perform all payroll-related tasks. Outsourcing payroll functions decrease costs and save time dealing with payroll-related financial activities. Hiring an outside firm to handle payroll duties eliminates the need for a business to hire and train a significant in-house payroll workforce. Companies are increasingly outsourcing procedures that are not possible internally to external providers to manage functions. Moreover, it simply implies transferring your processing, subcontracting, or farming out to another company.
It's for companies who don't want to deal with the difficult task of handling payroll in-house. The term 'in-house' refers to a situation that is processed by an internal employee within the company. Hence, businesses can trust our Payroll Outsourcing Services in Hyderabad, Bangalore, Mangalore, US, and Europe fully.
What is the definition of payroll outsourcing?
Outsourcing is a service provided by an external organization that provides legal, tax, and accounting support to businesses to ensure that employees receive their paychecks on time, accurately, and with the least amount of risk possible. Maintaining personnel data, calculating employee salary and earnings, computing and adding bonuses. As well as delivering payroll, providing payroll-related reports, and complying with government taxation rules are all part of the job.
Companies who outsource their payroll can:
Record and control incidents.
It should be calculated, paid, and distributed regularly.
Calculate perks such as vacation time, commissions, or incentives, as well as vacation premiums, severance payments, pre-retirement, and other non-salary payouts.
Simplify regulatory compliance, especially when it comes to data protection laws.
Operate on a worldwide scale and manage in both domestic and international locations.
On-Road / Off-Road Payroll:
An employee's income begins as soon as he or she joins a company as a full-time employee. Employees are paid using two different types of models: on-roll and off-roll.
On-roll pay is a regular payroll process in which an employee is paid regularly and receives a set amount of compensation in exchange for their efforts. Employee benefits such as medical care, allowances, and performance bonuses are available to employees that are on the salary. They are subject to business policy because they work directly for the corporation.
What is the process of payroll outsourcing services?
When a firm decides to use a payroll outsourcing service, it must establish norms and practices to guarantee that everyone works together. The first step is to set up a system for exchanging information. Names, earnings, hourly or daily rates, timesheets, vacation and sick day policies, expense allowances, and any other data to calculate salary. Share with the third-party digital marketing service provider.
Because the information exchange is sensitive, the employer must also guarantee that the payroll provider agrees to keep it safe and secure by signing a security and confidentiality agreement. Hence, it's also possible that requires a data protection strategy.
The payroll provider can use the information to compute payroll. And pay your employees on time once the system defines the processes. Compliance, income taxes, and reporting can all handle by them.
Companies must realize that outsourcing payroll does not imply that they can do away with their staff. It frees these specialists to focus on more vital accounting chores like examining financial reports and resolving any difficulties that emerge.
Payroll outsourcing has several advantages:
Saves your time
Payroll is a lengthy procedure. By removing these constraints from the payroll department, personnel will be able to focus on other important aspects of the business, such as establishing financial strategies that will help the company maintain its competitive advantage.
Cuts cost as much as possible
Payroll outsourcing allows businesses to cut costs and quantify visible and hidden costs associated with management.
Prevents errors
You can reduce the likelihood of errors, missed deadlines, omissions, and late tax filings by hiring professionals whose primary responsibility and emphasis is payroll.
Ensures compliance
Payroll outsourcing organizations are for labour rules and regulations, making compliance easy for enterprises.
Improves responsiveness
Payroll companies can devote time to answering any questions or issues raised by their employees, reducing response times.
Conclusion:
Depending on the intricacy of your payroll, your supplier may be able to assist you with a variety of different responsibilities. There are many benefits of outsourcing for you. It's just a monthly data entry for you, with no need to worry about rapidly changing legislation or sophisticated computations. Leave that to the professionals.
There's no denying that paying your staff incorrectly or late is a surefire way to make them feel undervalued and demotivated. However, if you're doing your payroll in-house, Vision Data Analytics is perfect for your payroll processes. Our Cloud Consulting Services in Hyderabad, Bangalore, Mangalore, US, and Europe are automated. Each payroll run involves numerous manual computations, and human error is unavoidable. That's why many people opt to outsource their payroll, especially when switching to a managed service means fewer mistakes.